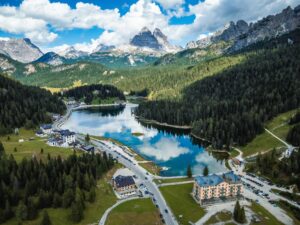 3rd Stage – Tricky Middle Distance in Valgrande – Comelico Superiore
The third stage of the international 5  Days of Italy was staged in Valgrande di Comelico Superiore, already the hosting forest of 5 Days Italy in 2019, offering tricky orienteering slopes just in front of the Tre Cime di Lavaredo.
The race took place in a particular forest, due to its variety of vegetation and features, which was pleased by all participants, in particular those coming from the northernmost countries, who are not used to these sudden changes in vegetation and height differences.
The ground, a little heavy from the rain and with some difficult passages, made this day epic and worthy of the expectations.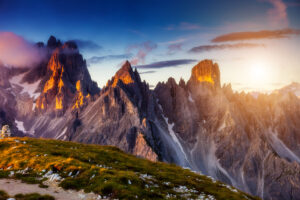 The courses made by Federico Venezian and Jessica Lucchetta, were also greatly appreciated for their trickiness and enjoyment.
Excellent as always the organizational team, which was capable of being prompt and punctual despite the scenario and set-up changing day by day.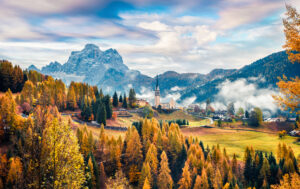 The Czechoslovakian Vojtěch Král won the day's classification, leaving Matthew Gooch behind with over 2′ gap.
Among the women comes the World Champion Megan Carter-Davies is getting ever closer to the final success of 5 Days Italy 2023.
In the evening the award cerimony was held in Piazza Tiziano in the presence of local institutions and the stage sponsor Pian delle Vette.
Next stage in Cortina d'Ampezzo on the Fiames forest.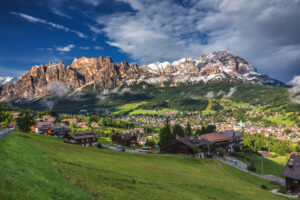 ---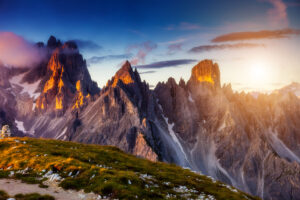 La terza tappa della manifestazione internazionale nelle Dolomiti del Cadore va in scena a Valgrande di Comelico Superiore, già teatro nel 2019 della 5 Days Italy ai piedi delle Tre Cime di Lavaredo.
La gara si è svolta in un bosco intrigante per la sua varietà di vegetazione che ha affascinato particolarmente i nordici non abituati a questi cambi repentini di vegetazione e dislivello.
Il terreno, un po' appesantito dalla pioggia e con qualche passaggio difficile, ha reso questa giornata epica e degna dei campioni in gara.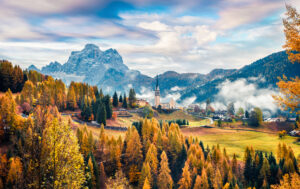 I tracciati dei tecnici Federico Venezian e Jessica Lucchetta, quest'ultima atleta nazionale azzurra che per l'occasione si è prestata a testare la validità dei percorsi, sono stati molto apprezzati anche per la loro spettacolarità.
Ottima come sempre l'organizzazione capace di essere pronta e puntuale nonostante ogni tappa cambi giorno per giorno lo scenario e l'allestimento.
Per la classifica di giornata l'ha spuntata il cecoslovacco Vojtěch Král lasciandosi alle spalle Matthew Gooch con ben due minuti di vantaggio. Tra le donne arriva il "triplete" della campionessa Megan Carter-Davies che si avvicina sempre più al successo finale di 5 Days Italy 2023.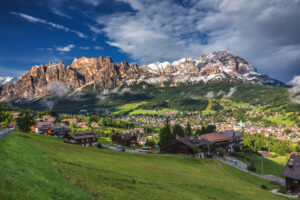 In serata si sono svolte le premiazioni in Piazza Tiziano alla presenza delle istituzioni locali e dello sponsor di tappa Pian delle Vette.
Prossimo appuntamento con il quarto stage a Cortina d'Ampezzo sulla piana di Fiames